Your Child's First Visit
On your child's first visit to our office we will perform a thorough dental examination which will check for cavities, evaluate their occlusion (how their teeth fit together), assess their oral hygiene (to see how good a brusher they are), and give us a baseline to monitor their oral growth and development. We will also clean, floss, and give a fluoride treatment to the teeth. Parents are welcome to accompany their child to the treatment area for all cleaning visits. After the treatment is over, Dr. Alfano will discuss your child's oral health condition with you, and you may ask all the questions you may have in regards to caring for your child's teeth.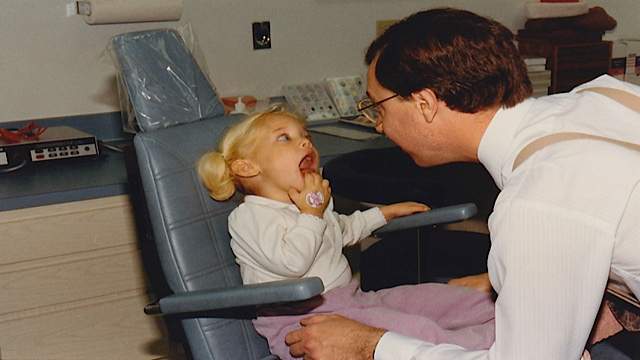 Dr. David's daughter, Lauren, showing him her teeth as a young child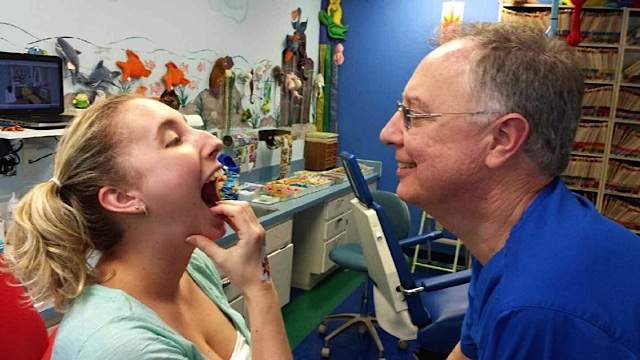 Re-creating the opportunity 25 years later
Please print and fill out completely, BOTH of the following forms, the Patient Information, and the HIPAA Release forms, to bring to your first visit.
Download our Patient Information Form here. Please fill this form out and bring it with you to your child's first appointment. We will need a separate form for each child we will be seeing.
Download the HIPAA Release Form here. You only need one of these forms for the entire family. Just write the names of all the children we will be seeing on the bottom line of the form.
Please Note: A parent or legal guardian must sign the consent on the Patient Information Form. Grandparents and step-parents cannot legally give consent** for treatment unless they are also the legal guardian, and have the proper paperwork to demonstrate that status. Therefore, a parent or legal guardian must accompany the child on their first visit unless the Patient Information Form is filled out and signed ahead of time, and sent with the responsible adult bringing the child to the office.